Teaching Good Habits of Driving to New Young Drivers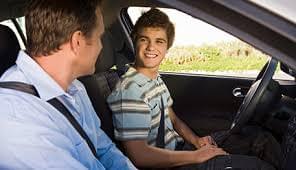 Driving is a science as well as an art which has to be learnt attentively and seriously like a student learns from his/her class teachers. Here are some Good Habits that should be inculcated in the young drivers:
Completely Focus on the Road
The basic and the foremost best habit to teach to your younger generation while they are setting out for learning the intricacies of safe driving, is to tell them to keep their eyes strictly and thoroughly on the road.
Fasten the Seatbelts
The young learners should be instructed to put on and fasten their seat belts. Legal Rules also dictate to fasten the seatbelts before putting in the ignition key.
Preliminaries
The young drivers should be taught to set the rearview mirrors, and check the fuel in the vehicle and brakes and headlights, and also to watch whether the tires are properly inflated, before going out for driving. All these points are necessary from safety point of view.
Don't Mix Drinking & Driving
Although it is unlawful to drive while drinking, yet some adults indulge in this "Risky, Undesirable& Unwanted" habit. The adults must not drink and drive. Only then children will rigidly inculcate this habit. Driving in a state of intoxication is the major cause of fatal road accidents worldwide.
Don't Use Mobile while Driving
In this era of technology, more specifically the age of laptops and mobile phones, they should be taught NOT to use their mobile phones or other electronic devices, while they are behind the steering wheel, neither for answering any call – whosoever the caller may be, nor for sending any textual message like, "I am driving. I shall call you later." Let the call go unanswered. If the caller is so significant for them, then they should try to stop their vehicle, at a parking spot and then call the caller. This golden habit you must also follow, when you are yourself driving your car in the company of your family. After all, children inculcate good habits from their parents and grandparents. You are their foremost role models. They easily replicate your driving behaviour.
No Conversation
While the young drivers are being taught the basics of driving, no talks/no conversation should be indulged with them. Only driving instructions should be taught to them, with their eyes completely focused on the road.
Positive Attitude
If your young one is slow to learn driving, don't lose your patience. Don't rebuke the young learner. Have a positive attitude and repeat your instructions, without expressing your anger, like a good teacher in a school.
Speed Control
The young and teen drivers should be taught to keep the vehicle within reasonable speed limits. They should not accelerate the vehicle merely for fun sake as it may prove very dangerous. They should learn to drive safely rather than rash driving. Remember: Safety First, Speed Afterwards.
Stay Calm & Cool
The young learners should be taught to remain calm & cool while on the road, and not to express their anger over some passerby coming from the wrong side or who may be rash driving.
Avoid Bad Weather
When it is raining or snowing, as it usually happens in Canada, or when the visibility is low, the young drivers or young learners must be asked to avoid driving.
Defensive Driving
You or your ward may be right and 100% flawless while driving, yet your ward must be taught the art of defensive driving for the sake of safety. Some other person on the road may be wrongly driving and committing blunders on the road, at that time you have not only to save your life but also save your vehicle from collision. Proper Defense is a ladder to safety on the road.
No Merry-Making
The young driver should be taught not to indulge in merry-making while sitting behind the steering wheel. At that time, the focus must solely be on the driving. Merry-Making or enjoyment should be done only when you reach your destination; otherwise it can prove to be dangerous.
Company of Professionals
It would be better that you send your son/daughter to a reputed driving school in Edmonton , having recognition from the provincial authorities Advance Driving School in Edmonton provides Class 5, Class 7 and Class 4 driving courses. Here the professionals would impart safe driving instructions to your ward and they may not feel nervous and would rather feel free and comfortable to ask any question related to driving. It is natural that some children are shy in nature and hesitate to ask questions to their parents. Besides, teaching driving to a child is not a child's play. It is a quite demanding job. It requires a lot of commitment, efforts, patience, and time which most of the parents fail to devote for their wards. So, better leave him/her in the company of professionals, to learn all the rules, regulations and tricks of safe driving. The school officials also provide the facility to pick and drop your young son/daughter from the place of your residence.
Last, but not the least, "Good Professionalized Teaching would lead to Better Learning resulting into the Best Driving Skills among New Young Drivers."