Class 7 Knowledge Test Preparation Course
Getting your class 7 license is the first step towards being a fully licensed driver.
Get expert classroom training for Knowledge Test preparation to get your Class 7 drivers license in Fort Saskatchewan/Sherwood Park.
Driving classes can benefit the students due to a plethora of reasons. Not only does it help in developing driving skills but also let you gain knowledge about the traffic rules and earns you discount on insurance premiums. This is exactly what you achieve if you enrol yourself in advanced driving classes. Right from all the safety measures to all the tits and bits of driving, we shoulder the responsibility of training a learner driver and transforming them into safe drivers.
Class 7Knowledge Test Preparation
This In-Classroom course includes
test preparation book.
2 days in classroom training sessions.
Classroom training sessions are scheduled for every weekend from 9 am to 5 pm View classroom schedule
+ GST
For more details please call us at (780) 660-4090 or send an enquiry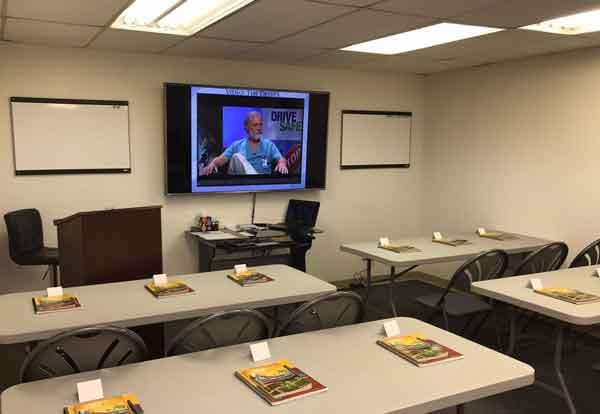 You can register in our advanced school driving to experience the difference. Also we offer our services at menial prices that will not cause strain to your pockets. You can simply get registered with us to become a trained, responsible and safe driver.
We help our students to get a better insight about the road rules and signs and symbols. We consider it as or duty to make the learners understand what the road signs symbolize using our test preparation books and materials. Our motive is to develop a better understanding of the signs in the minds of learners. Thus we make them practice different test sets to score well in their driving test. And, these tests are not just conducted for once; in fact, the students can attempt the test series as many times as they wish to do the same to get a thorough understanding.
This further enhances the driving knowledge and reap put drivers who are well fledged and acquainted with traffic rules and symbols. Also, we provide a handbook that our students can use to read the different rules and traffic ethics that one has to follow being behind the steering. These books may lend a helping hand in clearing the driving test to earn the license permits.
We aim at building confidence in the minds of our students so that they can pass the driving test with ease. We give them practice sets which are similar to the actual driving test questions conducted by the authorities to achieve the license. Also, it helps the learners to become familiar with the pattern of the driving test conducted making them confident about the same.
We make sure that all the basics of driving are well known to our students, and our expert staff is dedicated to achieving the same. Not only do they get an angel in disguise on the form of instructors to get them trained for the driving test but also develops the confidence to drive on the road.
We also provide them with a certification that can lower the insurance premium cost.
Driving is a privilege, and you need to respect it by being a responsible one. So get enrolled in our classes and get to experience the difference that you can get nowhere but in our advanced driving classes.